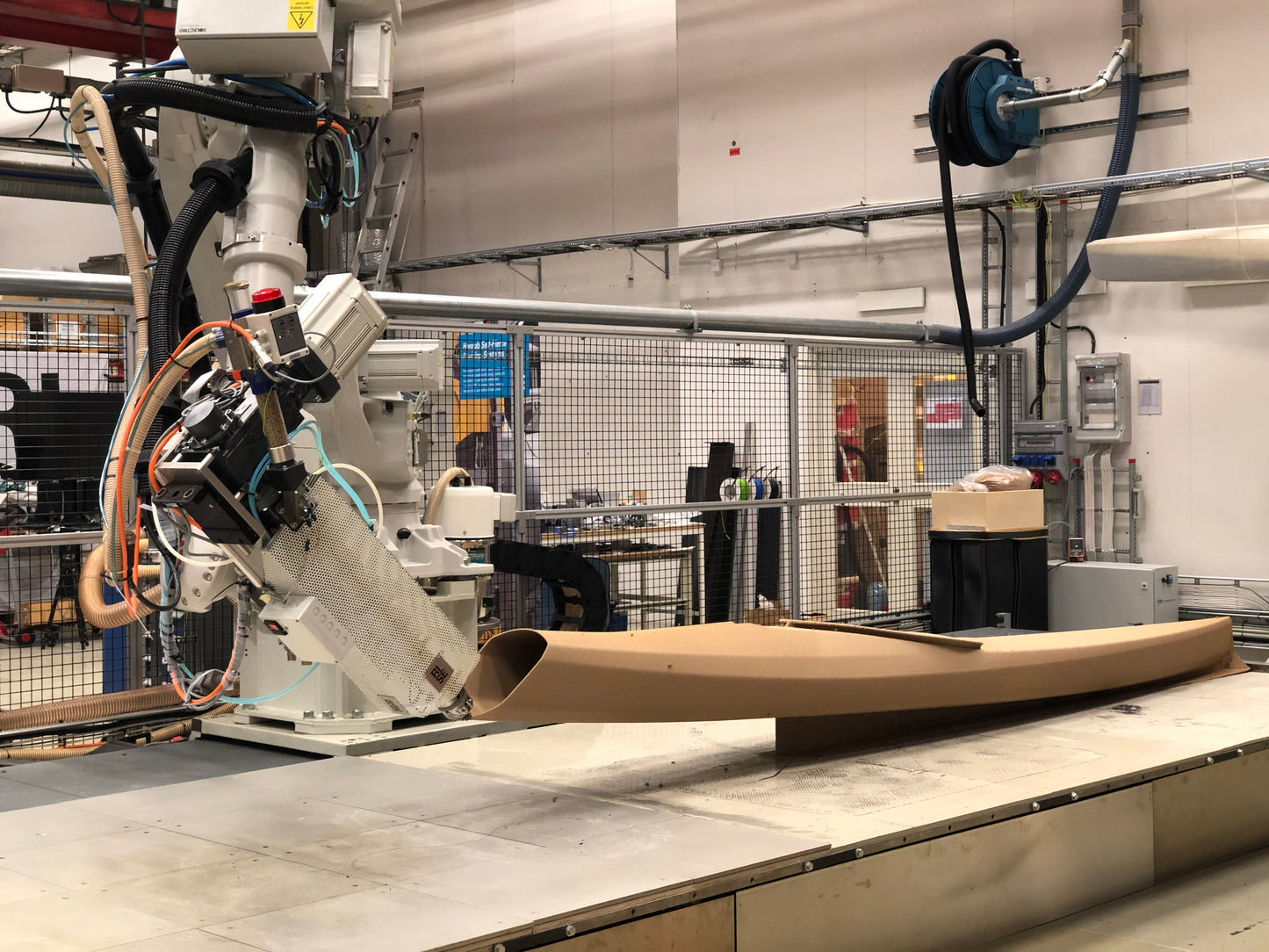 Ett svenskt projekt finansierat av Bioinnovation är först i världen med att 3D-printa en fullstor kajak i ett stycke. Kajaken är tillverkad av återvunnen plast som förstärkts med träfiber från svensk skog. Genombrottet öppnar för en konkurrenskraftig tillverkning av fler biobaserade och cirkulära produkter.
3D-printing i industriell skala är ett relativt outforskat område. Men nu visar RISE i samarbete med kajaktillverkaren Melker of Sweden och träfiberproducenten Biofiber Tech att tekniken kan bli en hållbar ersättare till konventionella produktionsmetoder. I ett projekt inom Bioinnovation har aktörerna tagit fram en kajak av träfiberförstärkt återvunnen plast som 3D-printats i ett stycke. Materialet i kombination med tekniken öppnar för en biobaserad och cirkulär båtproduktion.
– Mixen är oerhört intressant. En ny slags träfiber från Biofiber Tech gör att vi kan använda biobaserad råvara och upcykla återvunnen plast som sällan används i produkter med hög kravbild. 3D-printing i ett stycke innebär en snabb, flexibel och kostnadseffektiv tillverkning. Tekniken öppnar för mer designfrihet och en kundanpassad produktion. Vi ser den som en självklar del i en biobaserad och cirkulär tillverkning av vattensportprodukter, säger Pelle Stafshede, CEO Melker of Sweden.
Fler användningsområden för återvunnen plast
Kunskapen om vilka material som lämpar sig för 3D-printing är begränsad. Att tillverka ett så stort föremål i bara återvunnen plast gav bristfälliga resultat men genom att förstärka den med en ny typ av ytbehandlad träfiber från Biofiber Tech blev kajaken lätt och slittålig.
– Biokompositer som den här gör att vi i större utsträckning kan använda återvunnen plast inom industrin och öka cirkulariteten i en rad produkter. Båtar är bara ett exempel. På sikt kan vi tillverka möbler och andra stora föremål av material som är mer hållbara än de som används idag, säger Eric Zhang, grundare och vd Biofiber Tech.
3D-printing bidrar till klimatmålen
På några års sikt finns de 3D-printade kajakerna på marknaden. Redan nu kan tekniken användas för att ta fram prototyper till hälften av kostnaden.