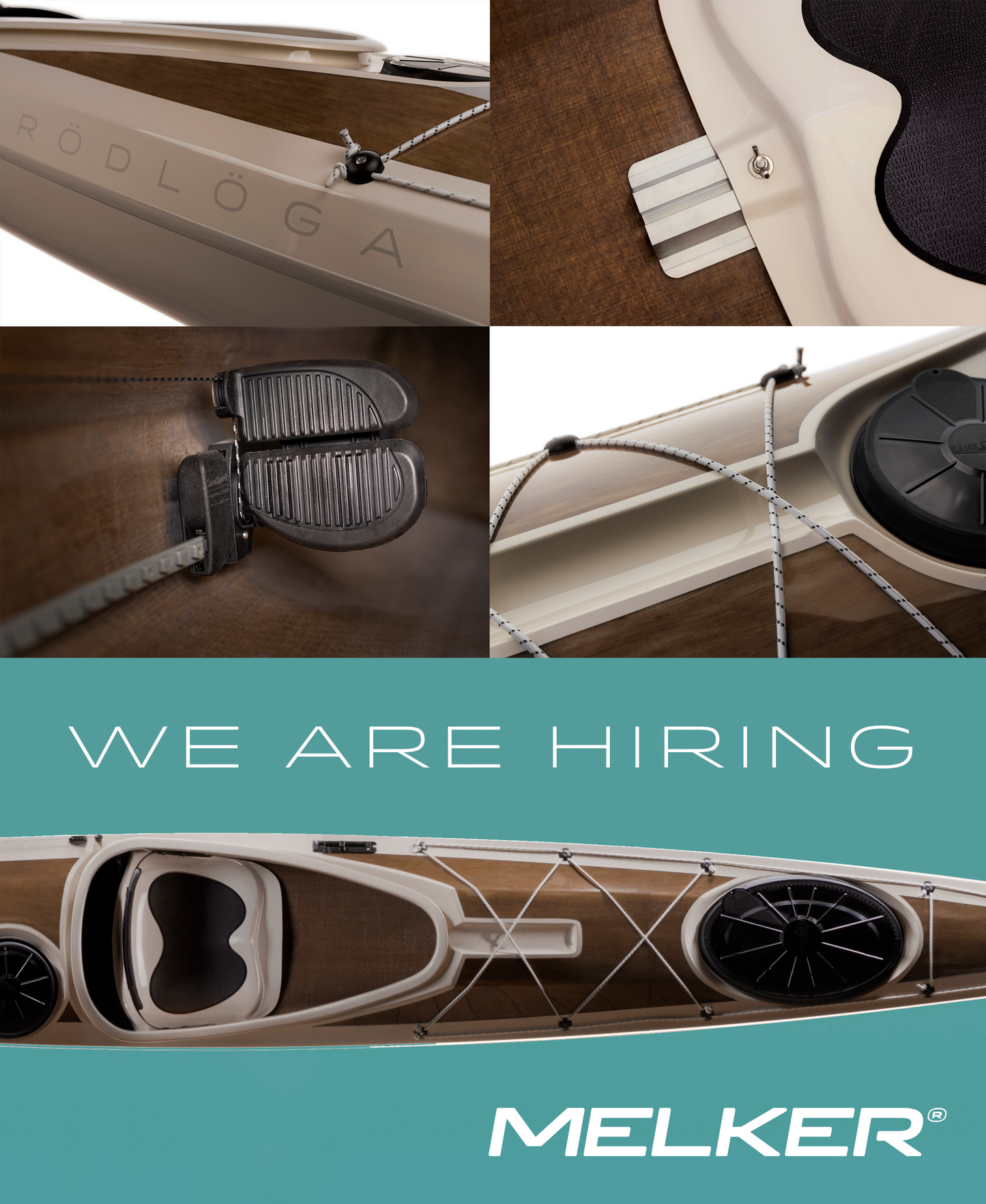 Som kompositbyggare på Melker of Sweden är du med och bygger våra tidlöst vackra och hållbara kajaker framtagna för en aktiv och medveten livsstil.
Vi är ett litet, ungt företag med det högt uppsatta målet att helt och hållet förändra industrin inom Outdoor Hardware.
Att hitta ett samspel där miljö och etik är lika viktigt som ekonomi är vår strävan - det gör det möjligt att göra skillnad på riktigt.
Vi ser vår innovation, design och R&D som långsiktiga investeringar för oss som företag men också för kommande generationer, naturen och friluftslivet. Att skapa de bästa produkterna är vårt mål, inte bara för dig som användare utan även för planeten.
Vi vet att all typ av företagande skapar miljöproblem - allt från el till datorerna till transporten av våra produkter. Vårt miljöarbete är en alltid pågående process där vi aktivt förändrar, förbättrar och delar med oss av det vi lär oss.
Våra kärnvärden inkluderar också att vi ska ha kul längst vägen och verkligen göra det vi älskar, tillsammans med vänner, familj och partners som delar vår filosofi.
Genom att leva efter vår filosofi kan vi skapa ett hållbart företag som vi är stolta över att driva och jobba för.
Vem är du?
Vi tror att du har tidigare erfarenhet av att bygga/laminera flytetyg av kompositmaterial, där kajaklaminering såklart är ett stort plus. Kanske du också har erfarenhet av olika processer (vacuum, handlaminering, infusering mm) och olika material som glas-, kol- och linfiber, i kombination med polyester och epoxy.
Då vi strävar efter att tillverka våra produkter med så litet klimatavtryck som möjligt, använder vi mycket resurser på forskning och utveckling med biobaserade alternativ - så allt du kan tillföra för att ta ytterligare steg är högst välkommet.
Du ska trivas i ett litet företag med en inställning att allt är möjligt bara en vill.
Vi jobbar alla sida vid sida med öppen kommunikation och raka rör.
Krav
- Tidigare erfarenhet av kompositlaminering av flytetyg (kajaker stort plus)
- Goda kunskaper i Engelska (Estländska stort plus)


Startdatum
Omgående


Plats
Inledningsvis Tallinn, Estland


Anställning
Heltid med provanställning


Ansökan
Skicka din ansökan (ansökningsbrev och CV) till info@melkerofsweden.se
- - -
Melker of Sweden
Melker of Sweden grundades 2015 på Hammarö i Värmland och är en tillverkare av hållbara och innovativa produkter för vattensport som kajaker, paddelbrädor och tillbehör.
Genom att ständigt pressa gränserna för hållbarhet, hantverk, design och innovation har Melker of Sweden blivit det mest erkända företaget inom vattensport i Sverige. Företaget har hedrats av den internationella vattensportsindustrin och branschkollegor, samt har mottagit flera priser såsom German Design Award och Svensk Form, för sina tidlöst vackra och hållbara produkter framtagna för en aktiv och medveten livsstil.
www.melkerofsweden.se