What to consider when buying a kayak?
The first time you plan to buy a kayak, it can easily feel overwhelming. When I (Emil from Melker) bought my first kayak, I had been thinking for 4 years about what kind of kayak I wanted. I had rented, borrowed, paddled long trips and thought about it for years.
Most of all, I wanted a new kayak, but the one I wanted were sold for around 4,000 Euros. Unfortunately, you get what you pay for when you look at kayaks and therefore I did not feel like compromising and go down in price too much. But I was young and did not really have that amount of money...
It all ended with me buying a better second hand kayak of the model I wanted. It still ate up most of my savings as the second hand value of composite kayaks is very good. Then I chose to tell myself that it was an investment in my well-being and went out for a trip in my new kayak!
To help you in the search for your life partner (oh, some people call it their kayak) I have compiled a list of 5 things to keep in mind when buying a kayak.
5 things to keep in mind when buying a kayak 
1. How should you use your kayak?
Do you think you are going on a big expedition, or are cozy trips in the sunshine the goal? Maybe you are looking for something to do a little workout in?
If you are going on multi-day trips, do you need good bigger volume in the dry hatches, if it is the exercise you want, then you might want a kayak with more speed and a rudder, for surfing, you want a kayak that can withstand a little tougher handling.
Different goals of use require different types of kayaks and trying to figure out how you want to use your kayak will help you a lot in your decision making process.
2. Material - Plastic or composite?
Plastic or composite is usually an eternal discussion on all the kayak forums on the web and what you should choose depends of course on how you will use your kayak.
I usually recommend the following:
A Plastic kayak you should buy if you want to be able to be really careless with your kayak or if you want to get something cheaper. Maybe you're going for some rockhopping, or surfing on nasty pebble beaches, or you are looking for a cheap kayak that your children can have and play with.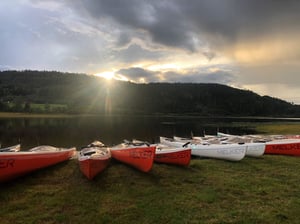 Composite kayaks are better suited for you who want a kayak that is a little lighter, stiffer and nicer. They have less friction in the water and in most cases provide a better paddling experience. You may not go out and rock hop with it (although I know people who do that too) but use it and wear it with health. We usually say that it will last a lifetime if you treat it the way you treat your bike.
NOTE! This is an extreme simplification of material selection and if it is something you want to learn more about, I really recommend that you read more about it!
A good informative link to start with is this: https://paddling.com/learn/types-of-kayak-materials/
3. Rudder or Skeg?
Without rudder or a skeg, your kayak will always turn upwind, a rather annoying thing if you are not one of those who love to paddle in headwinds.
But what should you choose for your particular kayak?
Skeg and Rudder are two completely different things and it is therefore difficult to say what exactly you should choose. A rudder is located at the back of the kayak and gives you the opportunity to steer the kayak using pedals at your feet. The skeg is a "fin" that is hidden in a skeg box at the stern of the kayak and can be folded up and down to compensate for the kayak's willingness to swing up against the wind.
In short, it depends on how you want to paddle. If you want to focus on propelling the kayak forward and your forward paddling, you should choose a kayak that has a rudder. If you instead want to focus on steering the kayak with a paddle and your body, you should have a kayak that has a skeg. If you have difficulty deciding, it can be smart to choose a kayak equipped with both rudder & skeg, then you can take advantage of both function and benefits.
If you want to deepen your knowledge more about rudder and skeg, you will find a longer post here.
4. New or used?
Kayaks often have a good second hand value and if you are not so picky with scratches etc, a used kayak can be a good alternative. Buy & sell groups on facebook are usually good places to look. If you are craving a Melker kayak, we have an Outlet on our website that may be worth a visit. Here you will find second hand kayaks from our rentals and other kayaks that we can't sell as new.
5. Try it!
In the end, it all comes down to how you actually feel in the kayak. Do you sit comfortably? Do you feel safe enough in it? Does it fit in size? Does it behave the way you want?
We always recommend that you, if possible, test a kayak before you buy. It often also gives you the opportunity to talk to an expert who can help you find the right kayak for you.
If you are thinking of buying and want more personal guidance on what to choose, we are always happy to help.
Let customers speak for us