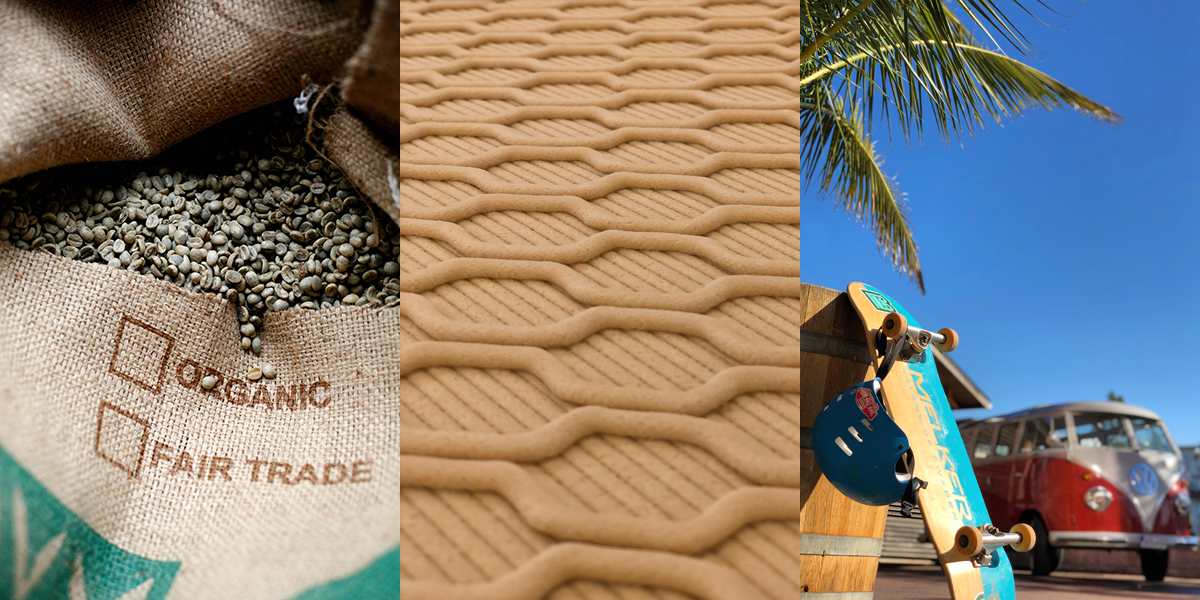 Pressmeddelande
Karlstad, 5:e juli 2019
Kaffesäckar och sågspån i Melker of Swedens nya 3D-printade kajaker, longboards och SUPar
Värmlandsbaserade Melker of Sweden har sedan starten 2015 haft en vision om att kunna tillverka innovativa friluftsprodukter med så liten miljöpåverkan som möjligt, utan att behöva göra avkall på vare sig produktegenskaper eller design. Tillsammans med Löfbergs, ABB, Moelven, RISE och The Wood Region är det nu möjligt!
- Genom ett nära samarbete har vi tagit fram ett unikt koncept där produkterna lokalproduceras med robotbaserad storskalig 3D-printing, baserat på lokala och biobaserade restmaterial som Löfbergs kaffesäckar och Moelvens sågspån, säger Pelle Stafshede, vd och kreativ chef på Melker of Sweden.
Skräddarsytt och cirklulärt
Produkterna det handlar om är kajaker, longboards och SUPar (ståbrädor för paddling). Material och konstruktion gör att de kan återvinnas och återföras till kretsloppet, och användas till nya produkter. Dessutom kan de skräddarsys för att passa olika specifika behov.
- Alla ser ju inte likadana ut och har inte samma förutsättningar, med vårt unika ekosystem och produktionsmetod kan vi tillgodose alla målgrupper med skräddarsydda produkter – helt cirkulärt, säger Pelle Stafshede.
Abonnera friluftsprodukter
De första produkterna finns redan att kika på och testa i Melker of Swedens smygöppnade showroom på Bryggudden i Inre hamn i centrala Karlstad. Om några veckor lanseras "Melker Move", där företag och privatpersoner kan abonnera på Melker of Swedens friluftsprodukter som tjänst – istället för att köpa.
- Att dela på den här typen av produkter, som de flesta ändå inte använder varje dag, är mycket bättre för både användaren och miljön, säger Pelle Stafshede.
Tillgänglighet och enkelhet är också en viktig aspekt, därför placeras produkterna i en smart förvaringslösning direkt på bryggan. Bokning och upplåsning görs enkelt via en mobiltelefon.
På Bryggudden varvas nybyggda bostäder, restauranger och tjänsteföretag, och området har på kort tid blivit ett av de mest populära för företag, lokalinvånare och turister. Närheten till vattnet är påtaglig, något som Melker of Sweden vill ska vara till glädje för fler.
- Vänerskärgården och Klarälvsdeltat är något vi dragit nytta av i alldeles för liten omfattning, så nu hoppas vi kunna ge turister och lokalinvånare en riktig upplevelse samtidigt som företagare kan erbjuda sina anställda en härlig friskvårdsaktivitet, säger Pelle Stafshede.
High-res media
https://www.dropbox.com/sh/k7doid2f7nuj1qs/AADdmOyM84tp-oE8GFgqVIvYa?dl=0
För mer information:
Pelle Stafshede, vd och kreativ chef på Melker of Sweden
Tfn 0733-16 95 35,
pelle@melkerofsweden.se