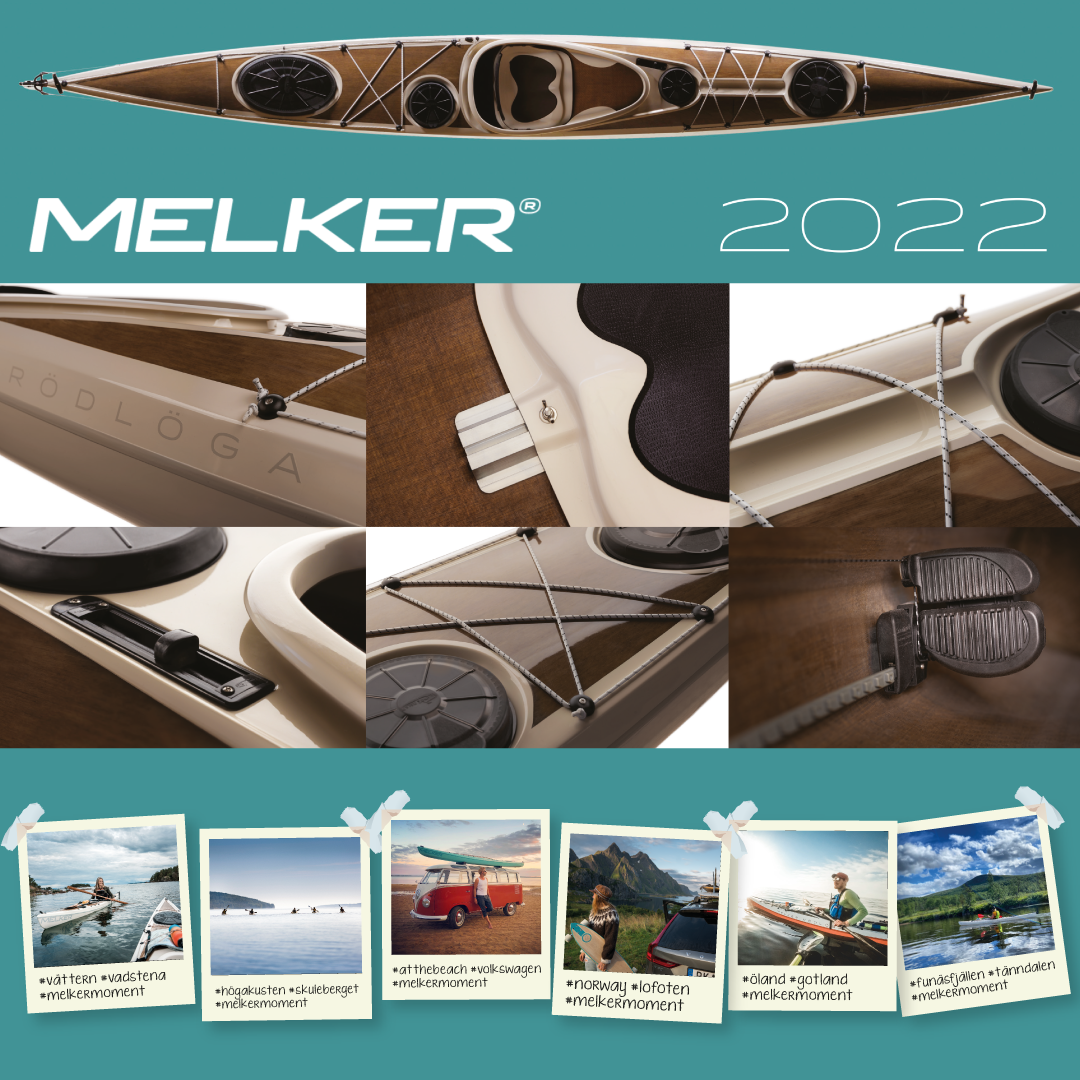 Melker aus Schweden gibt es nun auch in Deutschland
(English version below) 
Mit dem Start der Freizeitmesse "Boot und Fun" (11. bis 14. November) haben Paddler die Möglichkeit, die stilvollen Kajaks der schwedischen Firma Melker auch in Deutschland zu erwerben. Kajakguru wird den Vertrieb übernehmen – und damit einer der führenden Kajakhändler des Landes.
Die in Schweden ansässige Firma Melker (www.melkerofsweden.com) wurde im Jahr 2015 mit der Ambition gegründet, die komplette Wassersport-Industrie auf den Kopf zu stellen. Nach dem Motto "Stillstand ist Rückschritt" arbeitet Melker permanent daran, sich stetig in den Punkten Nachhaltigkeit, Handwerkskunst, Design und Innovation zu verbessern – und schafft es immer wieder, zuvor geglaubte Grenzen zu brechen. Das hat sich auch bereits ausgezahlt: Das Team wurde von der internationalen Paddelsportbranche sowie der Community geehrt und mit mehreren Auszeichnungen für die schnittigen und stylischen Outdoor-Produkte belohnt. 
Kajakguru (www.kajakguru.de) mit seinen zwei Wassersport-Verleihstationen in Berlin und Hamburg und einem Shop hat ab sofort die kompletten Melker-Produkte im Sortiment. Da das Team von Kajakguru Boote in ganz Deutschland ausliefert, ist der Kauf eines Kajaks von Melker nun für jeden eine Option. Kajakguru hat aber nicht nur einen Shop, in dem Boote ausgestellt und gleich mitgenommen werden können. Durch die Lage direkt am Wasser haben Kunden die Möglichkeit, die favorisierten Boote direkt vor Ort zu testen – ein großes Plus gegenüber anderen Anbietern. 
Wer im Umgang mit Boot und Paddel noch nicht ganz fit ist, bucht am besten direkt einen Kurs dazu. Der Inhaber von Kajakguru, Patrick Dittmer, und sein Team zeigen, wie man ein Kajak steuert, ohne viel Energie aufbringen zu müssen, um einen entspannten Tag auf dem Wasser verbringen zu können. Wer noch mehr über Kajakguru erfahren möchte, schaut am besten in den Youtube-Kanal. Dort gibt es nicht nur Tipps für einen Ausflug auf heimischen Gewässern, sondern auch allerhand Wissenswertes rund um Transport und Lagerung der Produkte.
"Das kreative Design gepaart mit der Nachhaltigkeit zeichnet die Kajaks von Melker aus. Gerade in der heutigen Zeit ist es wichtig auf die Umwelt zu achten und langlebige Produkte zu entwickeln. Das hat Melker definitiv geschafft", sagt Patrick Dittmer und ergänzt: "Wir sind auch ständig auf der Suche nach neuen Produkten, um unseren Kunden eine größere Auswahl anbieten zu können. Daher freuen wir uns sehr, dass nun auch Boote von Melker in unserem Bestand zu finden sind."
"Wir freuen uns sehr über die Kooperation mit Patrick Dittmer und dem Team von Kajakguru. Sie kennen den deutschen Markt, teilen unsere Leidenschaft für die Produkte und haben richtig Lust, die Marke Melker in Deutschland bekannt zu machen", sagt Pelle Stafshede, Inhaber und Kreativdirektor von Melker aus Schweden.
For more information and high-res content, contact;
Pelle Stafshede, CEO and Creative Director, Melker of Sweden
+46 733 16 95 35
Patrick Dittmer, CEO, Kajakguru
+49 172 9936239
Melker of Sweden available in Germany
With a jump-start between the 11th-14th of November at Berlin's boat and leisure fair Boot & Fun, German paddlers will immediately get the opportunity to experience sleek and stylish kayaks from Melker of Sweden, as KajakGuru in Berlin takes full responsibility to build the brand in Germany.
Swedish-based Melker of Sweden (www.melkerofsweden.com) was founded in 2015, with the bold ambition to completely game change the outdoor hardware industry.
Melker of Sweden has constantly been pushing the boundaries of sustainability, craftsmanship, design and innovation - which has brought Melker of Sweden to be the most recognized watersports company, being honoured by the international paddlesports industry & community, including several awards for their sleek and stylish outdoor products for an active and conscious lifestyle.
Kajakguru (www.kajakguru.de) with two physical stores located in Berlin and Hamburg, will carry the complete portfolio of kayaks from Melker of Sweden. Kajakguru's ability to deliver boats throughout all German states, guarantees that Melker's products will be available to a huge number of potential German paddlers. Kajakguru does not just have a shop where you can by the kayaks. In Berlin you have the opportunity to test them on a river before buying. This is a huge plus as you get to know how the kayak reacts depends of what you are doing with the paddle. For more skills you can book a course where Patrick Dittmer and his crew show how to steer a kayak perfectly, so you have enough energy for a longer trip. More tricks and hints you find on Kajakguru's Youtube-Channel.  
"Melker is known for a perfect combination between a creative design and sustainability. Especially these days its very important to look after the environment and create durable products", says Patrick Dittmer, CEO of Kajakguru. "We are always looking for new products we can present our custumors. We are very happy that we can offer Melker products from now on", Patrick Dittmer concludes.
"We are very pleased to start this cooperation with Patrick Dittmer & co at Kajakguru as they have the local know-how, share the passion for our unique products and are really thrilled to start building the brand in the German market" says Pelle Stafshede, CEO and Creative Director @ Melker of Sweden.