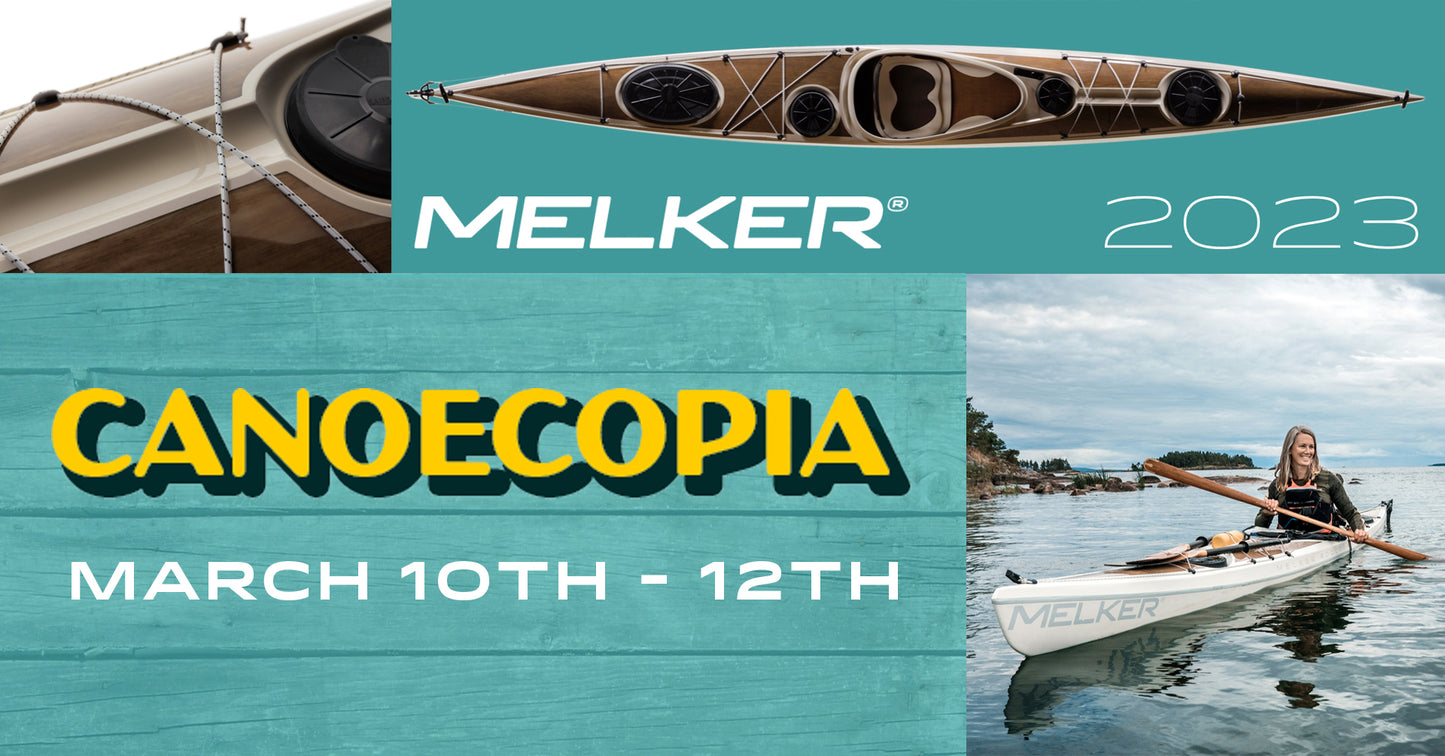 You are hereby invited to meet and greet with Melker of Sweden at the largest paddlesports consumer event in the world - Canoecopia!
More about Melker @ Canoecopia
We are located in the Alliant Energy Center (Madison, WI) / booth U7.
For more detailed information about the show and how to get there at www.canoecopia.com
Melker of Sweden offers innovative, sustainable, sleek & stylish kayaks for an active and conscious lifestyle and at the show you will have the possibility to see, feel and test all models and sizes in the 2023 portfolio of Melker kayaks - as well as meet and greet with the people behind the progressive company.
Darren Bush @ Rutabaga Paddlesports, hosting Canoecopia;
"...Four years ago, I was attending PADDLEexpo in Nürnberg, Germany, to see what cool new stuff was showing up on the European stage. Among the hundreds of exhibitors was a booth full of beautiful sea kayaks with wooden decks, with a small table in front of the booth. On that table was a 3D printer (the first one I ever saw) making a model of a kayak out of a wood and resin filament.
Fast forward four years, and their distributor Matt called us up and told us Melker was coming into the US. They stopped by and showed us the kayaks, and they were just as pretty, and they had improved their tech significantly. We pulled the trigger..."
- - -
Kayaks made of flax fibres
The use of natural, sustainable and high-performance flax fibres that are locally grown in Europe allows our kayaks to achieve the highest possible mechanical properties while significantly reducing its CO2 footprint.
We choose to work with ampliTex™ technical fabrics to give our products a lightweight yet durable construction with optimal strength and stiffness.
- - -
More about Melker of Sweden
Swedish-based Melker of Sweden (www.melkerofsweden.com) was founded in 2015, with the bold ambition to completely game change the outdoor hardware industry.
Melker of Sweden has constantly been pushing the boundaries of sustainability, craftsmanship, design and innovation - which has brought Melker of Sweden to be the most recognized watersports company, being honoured by the international paddlesports industry & community, including several awards for their sleek and stylish outdoor products for an active and conscious lifestyle.
Ready to know more? Check out a video-introduction by Pelle & Emil to the award-winning kayak Melker Rödlöga -> https://youtu.be/-632KxySqrU
- - -
More about Canoecopia by Rutabaga Paddlesports
With over 100 confirmed speakers and presentations, more paddling and outdoor gear than you can imagine, and an amazing community of people, Canoecopia is the largest paddlesports consumer event in the world!
Taking place at the Alliant Energy Center in Madison, WI from March 10th-12th, 2023.
Learn more and get your tickets at www.canoecopia.com