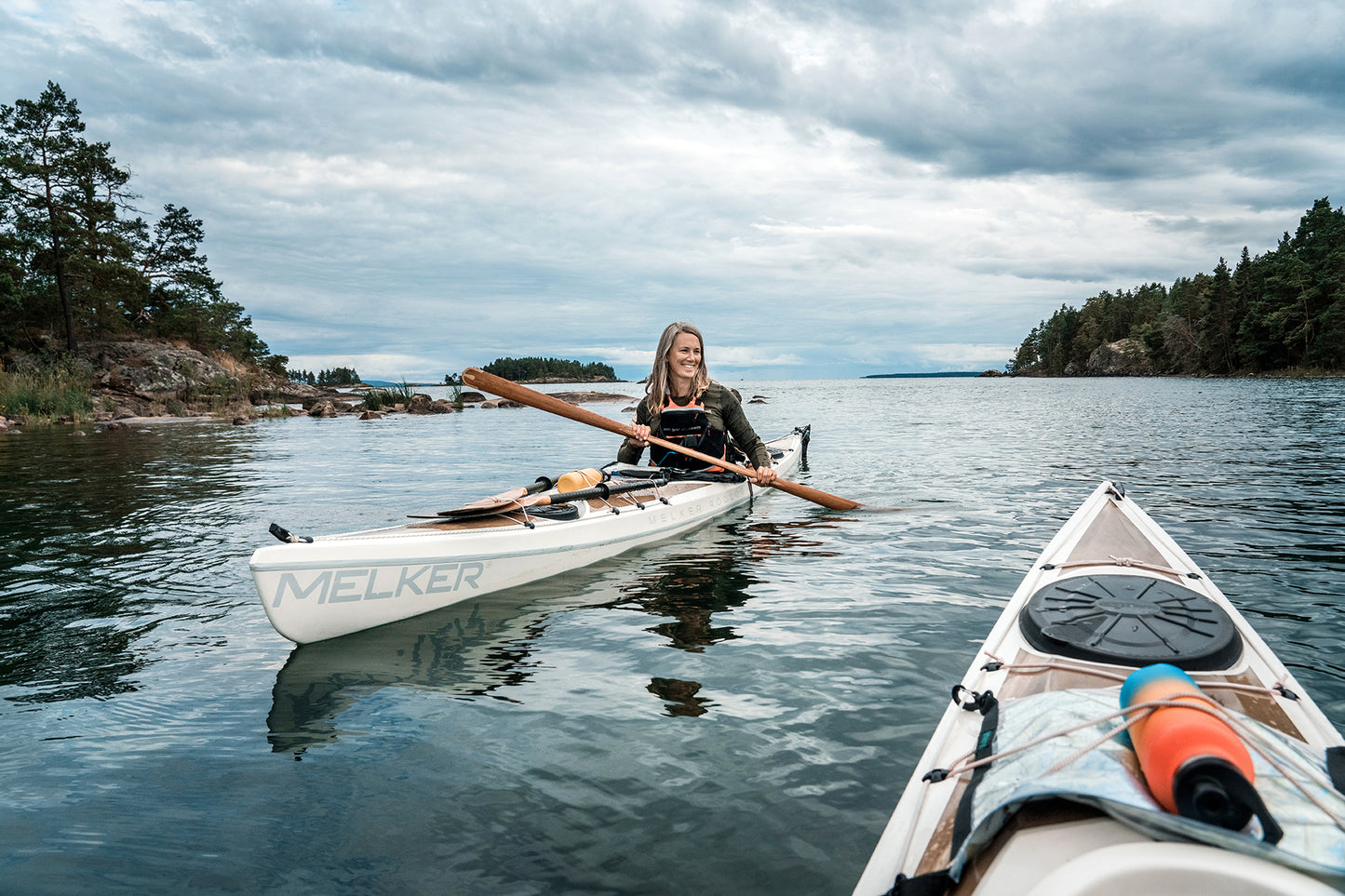 FOR IMMEDIATE RELEASE – APRIL 19TH 2023 CHICAGO/STOCKHOLM
(In Swedish below)
Melker of Sweden launches in North America
Following intense networking in the USA, the Swedish kayak producer is now ready take on the North American market. "We felt incredibly welcome, and several important pieces have now fallen into place. The timing is perfect for us", says Pelle Stafshede CEO & Creative Director, Melker of Sweden.
After a successful two-week trip to the USA, the team of Melker of Sweden can announce their first US flagship store and several key reseller partnerships. It marks the starting point for a large-scale launch in North America, initially focusing on the area around the Great Lakes. Melker of Sweden has already set up a hub in Chicago that will enable larger shipments from Sweden.
"It will allow us to work closer with our retailers and offer the possibility to restock during the season", says Pelle Stafshede.
One of the new resellers, Earth's Edge, is excited for the upcoming partnership.
"Our customers trust us to carry the best brands in outdoor, so we're very excited to partner with Melker of Sweden to carry their beautiful line of kayaks! We believe that their beautiful design, their unique approach to sustainable materials, and their incredible technical details will make them a hit with our customers. We appreciate all of the time and effort Pelle has put into building this partnership and we look forward to working together", says Karl Tucker, Founder & CEO, Earth's Edge.
During the time in the USA the Melker team also showcased their products during Canoecopia – the world's largest paddle expo.
"We got an incredible warm welcome, and a lot of visitors were fascinated with our kayak's unique design, how we work with sustainability, and continuing efforts to innovate and break conventions. We're extremely happy, and it gives us a lot of energy for our launch."
Another energy boost came from one of the most influential people in all of paddle sport – Darren Bush from Rutabaga Paddelsports.
"I met Melker of Sweden at a trade fair in Germany a few years ago. Having been in the paddle sports industry for over 30 years it's not often that a product really catches my attention. Melkers beautiful sea kayaks definitely caught my attention. Now we got to meet them again and the kayaks were just as pretty, and they had improved their tech significantly. We pulled the trigger! It feels great to have Melker kayaks in our stores", says Darren Bush.
The launch in North America also comes with significant marketing investments and Melker of Sweden has been fortunate to create partnerships with important ambassadors that will help get the message out.
"It's a mix of individuals with strong national and local presence, authentic influencers on the water that you can't miss.  We are also fortunate to have reached a point where people get in touch with us and want to discuss collaborations, people that see paddling as a lifestyle", says Pelle Stafshede.
The first step of the North America launch is focus on the area around the Great Lakes but plans to replicate it in Canada and on the west and east coast of the USA are already in place. The Melker team will return to North America in June this year to focus on Canada.
Media Contact
Pelle Stafshede, CEO & Creative Director, pelle@melkerofsweden.se, +46 733 16 95 35
Content download
High-res pictures & videos https://www.dropbox.com/sh/nwwb88a6w2qrniu/AABc5vrTzIcjKK1deLafxRjra
Video from Canoecopia (by Paddling Magazine)

About Melker of Sweden
Melker of Sweden offers sustainable, high-performance, sleek & stylish kayaks for an active and conscious lifestyle. An interplay between the environment, ethics and economy is strategically important to us – making it possible to make a difference for real. Our core values also include having a great time - making sure that we always do what we love together with friends, family and partners sharing our philosophy. Staying true to our philosophy makes it possible for us to create a successful business we are proud to run and work for. 
We are in business to make a difference - having a great time doing it! www.melkerofsweden.com
- - - SWEDISH / SVENSK VERSION - - -
FÖR OMEDELBAR PUBLICERING – 19:E APRIL 2023 CHICAGO/STOCKHOLM
Melker of Sweden i medvind etablerar i Nordamerika
Efter en lyckad charmoffensiv på plats i USA är Melker of Sweden redo för en storsatsning med sina kajaker utanför den nordiska marknaden. 
– Vi har fått ett otroligt fint mottagande och många viktiga bitar börjar falla på plats, säger Pelle Stafshede, CEO & Creative Director, Melker of Sweden. 
Nyligen kom Melker of Swedens team hem från två veckor i USA. Ett startskott för en storsatsning på kontinenten med start i området runt "the Great Lakes". Resan var ett kvitto på att tiden är rätt för en etablering i Nordamerika. Redan nu finns en hub på plats i Chicago – tack var det kommer det vara möjligt att skeppa större volymer från Sverige. I Chicago kommer det dessutom finnas en flagship store riktad direkt mot slutkund.
– Nu kan vi vara mer snabbfotade, våra återförsäljare kommer ha möjlighet att fylla på i sina butiker under säsongen, säger Pelle Stafshede som dessutom kan glädjas över att Melker of Sweden under USA-besöket kunder säkerställa ett antal nya återförsäljare i området. 
En av de nya återförsäljarna, Earth's Edge, ser med spänd förväntan fram emot samarbetet.
– Våra kunder räknar med att vi ska erbjuda de marknadens bästa erbjudanden inom outdoor. Därför känns det här partnerskapet med Melker of Sweden väldigt spännande. Vi tror verkligen på den vackra designen, hur de jobbar med hållbara material och de tekniska innovationerna – det kommer göra succé bland våra kunder. Sedan uppskattar vi verkligen all tid som Pelle lagt för att bygga upp vårt partnerskap och vi ser verkligen fram emot att jobba tillsammans, säger Karl Tucker, Founder & CEO, Earth's Edge.
Melker of Sweden var också på plats under världens största konsumentmässa, Canoecopia, för paddelsport. 
– På mässan fick vi ett otroligt fint mottagande. Många är fascinerade av våra kajaker som sticker ut med sitt unika estetiska uttryck, hur vi jobbar med hållbarhet och ständig innovation för att bryta konventioner. Väldigt roligt med ett sådant gensvar, det bäddar verkligen för vår satsning, säger Pelle Stafshede.
En av de som ställde sig längst fram i hyllningskören var Darren Bush, Rutabaga Paddelsports, en av de mest inflytelserika personerna i Nordamerika när det kommer till paddelsport.
– Jag kom i kontakt med Melker of Sweden på en branschmässa i Tyskland för några år sedan. Efter att ha varit i paddelsportbranschen i över 30 år, är det inte så ofta nya produkter verkligen fångar mitt intresse. Men det har Melker verkligen lyckats med!  Nu när de kom hit fick vi en möjlighet att träffa dem igen och kajakerna är fortfarande lika vackra och produkten var rejält utvecklad, vi är väldigt glada över att ha Melker i vårt sortiment nu, säger Darren Bush. 
Satsningen innebär också rejäla investeringar i marknadsföring och Melker har redan knutit till sig viktiga ambassadörer som kan sprida budskapet till relevanta målgrupper genom digitala kanaler.
– Det är personer med nationell räckvidd och andra som är väldigt starka lokalt. Autentiska inspiratörer som syns på vattnet. Det roliga är att många kontaktar oss och vill samarbeta. Människor som har sitt paddlande som livsstil, som når ut och vill vara en del av det Melker står för.
Just nu fokuserar Melker of Sweden sin Nordamerikasatsning på området runt "the Great Lakes", men redan nu detaljeras planerna för väst- och östkust samt Kanada. Redan i mitten av juni fortsätter charmoffensiven med två veckor fokuserat på Kanada. 
Mediakontakt
Pelle Stafshede, CEO & Creative Director, pelle@melkerofsweden.se, +46 733 16 95 35
Bilder och filmer med hög upplösning https://www.dropbox.com/sh/nwwb88a6w2qrniu/AABc5vrTzIcjKK1deLafxRjra
Film från Canoecopia (av Paddling Magazine)
Om Melker of Sweden
Melker of Sweden grundades 2015 på Hammarö i Värmland och är en tillverkare av hållbara och innovativa produkter för vattensport som kajaker, paddelbrädor och tillbehör. Genom att ständigt pressa gränserna för hållbarhet, hantverk, design och innovation har Melker of Sweden blivit det mest erkända företaget inom vattensport i Europa. Företaget har hedrats av den internationella paddlesportsindustrin och branschkollegor, samt har mottagit flera priser, såsom German Design Award och Svensk Form, för sina tidlöst vackra och hållbara produkter för en aktiv och medveten livsstil.