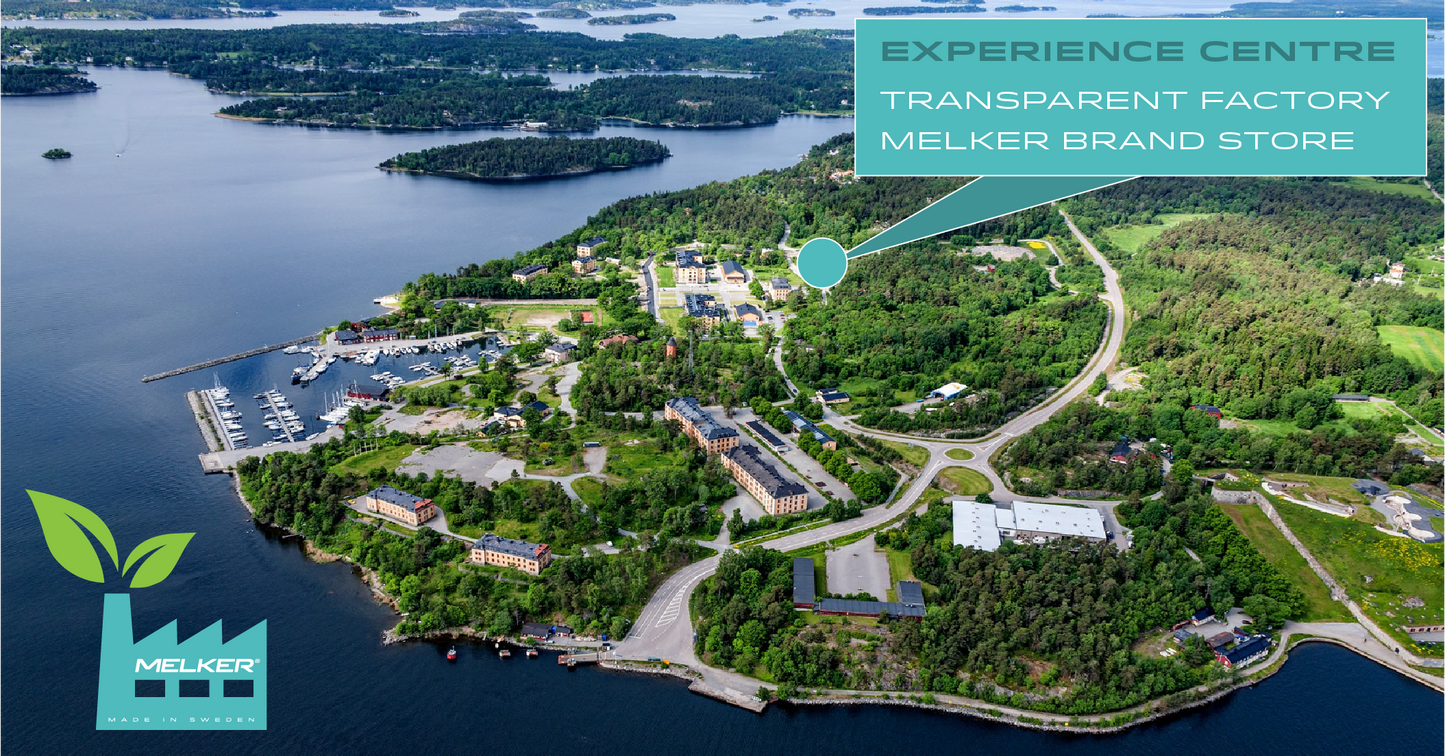 Melker of Sweden takes the step to "Made In Sweden"
On the scenic island Rindö in the Stockholm archipelago, Melker of Sweden has now commenced their in-house production of their world-famous kayaks.
"This has been the dream and our ambition since we started, an important step in our green transition" says Pelle Stafshede, CEO & Creative Director, Melker of Sweden.
New plant-based materials and technology, faster product development, efficient production, and a new partnership are some of the key elements that have made it possible for Melker of Sweden to setup in-house production in their own backyard in the middle of the Stockholm archipelago.
"This is an important step for us, especially since we are doing so much research and development. Now we can move forward much more efficiently and quickly turn our ideas into reality. It's also a significant move to ensure our quality and to continue with our complete green transition. When you conduct a life cycle analysis of our type of products, the location of the manufacturing has a really big impact" says Pelle Stafshede and continues:
"Transporting bulky products like kayaks around the world is a really big problem in regards to sustainability. The way we set up our efficient and modular production, it allows us to easily ramp up production in several locations and grow with actual demand. We expect next location to be in North America as the reception of our kayaks has been very favorable. For us, it's not about manufacturing our products as cheap as possible in remote places often with poor working conditions. We do it smart, efficient and in close proximity to our customers. That's why Rindö in the Stockholm archipelago is a perfect starting point for us".
Another crucial piece of the puzzle is also found just around the corner in the Swedish archipelago – namely a strategic partner, Vaxholm Komposit.
"Vaxholm Komposit have decades of experience and is a highly recognized performance and light-weight boatbuilder – all the way from the initial ideas and concepts to the finished product - forming the foundation for our effective and state-of-the-art serial production. At the same time we bring our valuable expertise in plant-based materials and Natural Fiber Composites (NFC) to the partnership, so it's a really great match between the two of us" says Pelle Stafshede.
"The entire marine industry needs to move towards a more sustainable and plant-based agenda. Melker has constantly been pushing the boundaries of what is possible to achieve, and this is an exciting journey we are embarking on together. We look forward to paddling sleek, light-weight, and fully plant-based kayaks manufactured here on Rindö" says Ulf Brändström, CEO of Vaxholm Komposit.
Nearby Vaxholm Komposit, a beautiful wooden building with mouth-blown window glass and patina can be found. This old military library is perfect for Melker of Sweden and this old building will serve as the foundation of the Melker Experience Centre, a HUB including their transparent factory and brand store.
"We will still maintain a close relationship with the strategic experts at Vaxholm Komposit and in parallell start building something of our own, where our grand visions are so much more than just a production line for kayaks" says Pelle Stafshede.
Visions include sustainable tourism and place development, where Melker's transparent factory and experience center invite customers to be a part of the final products. This also encompasses the possibility to test the kayaks just outside the door, enjoy local food experiences, spend the night in the archipelago and much more.
As Melker of Sweden now takes the step to "Made In Sweden" it also marks the beginning of a new chapter as the company initiates a funding round of SEK 22 million.
"We have many big plans to launch now, in-house production in Sweden, expansion in North America, and acquisition of the facility. We already have a solid business, our growth curve is pointing in the right direction and we are making profits. This makes the timing for bringing in new investors to speed up our expansion just right" says Pelle Stafshede.
Media Contact
Pelle Stafshede, CEO & Creative Director, pelle@melkerofsweden.se, +46 733 16 95 35
Content download
Logo, high-res pictures & videos
https://www.dropbox.com/sh/ye937m155li9t4w/AAAJXoayHPQND5fqy3VWOQv3a?dl=0
About Melker of Sweden
Melker of Sweden offers sustainable, high-performance, sleek & stylish kayaks for an active and conscious lifestyle. An interplay between the environment, ethics and economy is strategically important to us – making it possible to make a difference for real. Our core values also include having a great time - making sure that we always do what we love together with friends, family and partners sharing our philosophy. Staying true to our philosophy makes it possible for us to create a successful business we are proud to run and work for. 
We are in business to make a difference - having a great time doing it! www.melkerofsweden.com
-