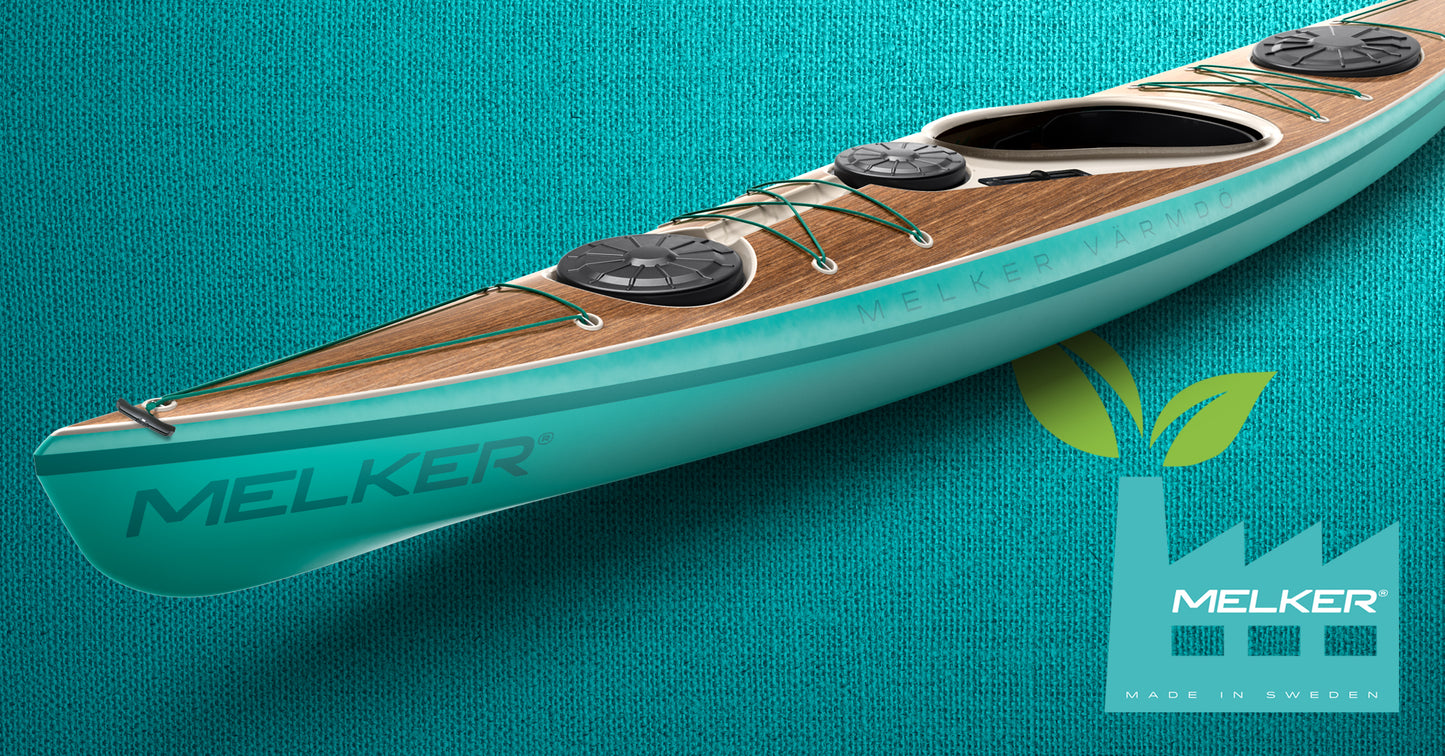 FOR IMMEDIATE RELEASE – SEPTEMBER 25TH 2023, RINDÖ/STOCKHOLM
(In Swedish below)
Melker of Sweden takes the step to "Made In Sweden"
On the scenic island Rindö in the Stockholm archipelago, Melker of Sweden has now commenced their in-house production of their world-famous kayaks.
"This has been the dream and our ambition since we started, an important step in our green transition" says Pelle Stafshede, CEO & Creative Director, Melker of Sweden.
New plant-based materials and technology, faster product development, efficient production, and a new partnership are some of the key elements that have made it possible for Melker of Sweden to setup in-house production in their own backyard in the middle of the Stockholm archipelago.
"This is an important step for us, especially since we are doing so much research and development. Now we can move forward much more efficiently and quickly turn our ideas into reality. It's also a significant move to ensure our quality and to continue with our complete green transition. When you conduct a life cycle analysis of our type of products, the location of the manufacturing has a really big impact" says Pelle Stafshede and continues:
"Transporting bulky products like kayaks around the world is a really big problem in regards to sustainability. The way we set up our efficient and modular production, it allows us to easily ramp up production in several locations and grow with actual demand. We expect next location to be in North America as the reception of our kayaks has been very favorable. For us, it's not about manufacturing our products as cheap as possible in remote places often with poor working conditions. We do it smart, efficient and in close proximity to our customers. That's why Rindö in the Stockholm archipelago is a perfect starting point for us".
Another crucial piece of the puzzle is also found just around the corner in the Swedish archipelago – namely a strategic partner, Vaxholm Komposit.
"Vaxholm Komposit have decades of experience and is a highly recognized performance and light-weight boatbuilder – all the way from the initial ideas and concepts to the finished product - forming the foundation for our effective and state-of-the-art serial production. At the same time we bring our valuable expertise in plant-based materials and Natural Fiber Composites (NFC) to the partnership, so it's a really great match between the two of us" says Pelle Stafshede.
"The entire marine industry needs to move towards a more sustainable and plant-based agenda. Melker has constantly been pushing the boundaries of what is possible to achieve, and this is an exciting journey we are embarking on together. We look forward to paddling sleek, light-weight, and fully plant-based kayaks manufactured here on Rindö" says Ulf Brändström, CEO of Vaxholm Komposit.
Nearby Vaxholm Komposit, a beautiful wooden building with mouth-blown window glass and patina can be found. This old military library is perfect for Melker of Sweden and there are already plans to acquire the old building to start up their own transparent factory.
"We will still maintain a close relationship with the strategic experts at Vaxholm Komposit and in parallell start building something of our own, where our grand visions are so much more than just a production line for kayaks" says Pelle Stafshede.
Visions include sustainable tourism and place development, where Melker's transparent factory and experience center invite customers to be a part of the final products. This also encompasses the possibility to test the kayaks just outside the door, enjoy local food experiences, spend the night in the archipelago and much more.
As Melker of Sweden now takes the step to "Made In Sweden" it also marks the beginning of a new chapter as the company initiates a funding round of SEK 20 million.
"We have many big plans to launch now, in-house production in Sweden, expansion in North America, and acquisition of the facility. We already have a solid business, our growth curve is pointing in the right direction and we are making profits. This makes the timing for bringing in new investors to speed up our expansion just right"says Pelle Stafshede.
Media Contact
Pelle Stafshede, CEO & Creative Director, pelle@melkerofsweden.se, +46 733 16 95 35
Content download
Logo, high-res pictures & videos
https://www.dropbox.com/sh/ye937m155li9t4w/AAAJXoayHPQND5fqy3VWOQv3a?dl=0
About Melker of Sweden
Melker of Sweden offers sustainable, high-performance, sleek & stylish kayaks for an active and conscious lifestyle. An interplay between the environment, ethics and economy is strategically important to us – making it possible to make a difference for real. Our core values also include having a great time - making sure that we always do what we love together with friends, family and partners sharing our philosophy. Staying true to our philosophy makes it possible for us to create a successful business we are proud to run and work for. 
We are in business to make a difference - having a great time doing it! www.melkerofsweden.com
- - - SWEDISH / SVENSK VERSION - - -
FÖR OMEDELBAR PUBLICERING – 25:E SEPTEMBER 2023, RINDÖ/STOCKHOLM
Melker of Sweden tar klivet till Made in Sweden
På natursköna Rindö i Stockholms skärgård sätter nu Melker of Sweden igång produktionen av sina världskända kajaker i egen regi.
– Det här har varit drömmen och ambitionen sedan vi startade, ett viktigt steg i vår gröna omställning, säger Pelle Stafshede, CEO & Creative Director, Melker of Sweden.
Vidareutvecklat biobaserat material, snabb produktutveckling, effektiv kvalitetsproduktion och en strategisk partner. Det är några av delarna som gör att Melker of Sweden nu sätter igång produktion av sina kajaker på svensk mark.
– Det är ett viktigt steg för oss, inte minst eftersom vi jobbar mycket med forskning och utveckling, nu kan vi jobba mycket mer effektivt med att omsätta idéer i praktiken. Det är även betydande för att säkerställa kvalitet och en viktig faktor i vår totalt gröna omställning. I livscykelanalysen av våra produkter så spelar det också väldigt stor roll var tillverkningen ligger, säger Pelle Stafshede och fortsätter:
– Att frakta skrymmande produkter som kajaker över hela världen är ett stort bekymmer. Då vi skapar en modularitet i vår produktion kommer vi enklare kunna starta upp på fler platser i världen när underlaget på marknaden finns. Exempelvis i Nordamerika där vi är inne i en tillväxtfas just nu. För oss handlar det inte om att tillverka våra kajaker så billigt som möjligt i andra delar av världen, många gånger under högst tveksamma arbetsförhållanden och på bekostnad av vår planet. Vi satsar på att göra det hållbart, smart och effektivt där våra kunder finns, då är Rindö och Sverige en perfekt startpunkt för oss.
Där finns också en otroligt viktig pusselbit – nämligen en strategisk partner i Vaxholm Komposit.
– Vaxholm Komposit är erkända specialister på hela processen med att bygga högpresterande lättviktskonstruktioner – från koncept till färdig produkt – och skapar förutsättningarna för en modern och effektiv serieproduktion. Samtidigt bidrar vi med hög kompetens inom biobaserat material så det blir en bra match i samarbetet, säger Pelle Stafshede.
– Hela den marina industrin behöver gå mot ett mer biobaserat förhållningssätt i sin tillverkning. Därför känns det här strategiska samarbetet väldigt rätt i tiden. Melker har länge flyttat gränserna för vad som är möjlig att göra och det här är en mycket spännande resa vi inleder tillsammans. Nu ser vi fram emot att få paddla snygga, lätta och helt biobaserade kajaker tillverkade här på Rindö, säger Ulf Brändström, VD på Vaxholm Komposit. 
Och ett stenkast bort från Vaxholm Komposits fabrik finns en vacker träbyggnad med handblåsta fönster och patina. Det gamla militärbiblioteket är som gjort för Melker of Sweden och det finns långt gångna planer på att förvärva byggnaden och där skapa Melkers transparent factory.
– Då har vi fortsatt kvar en närhet till Vaxholm Komposit och kan samtidigt bygga upp något eget, med stora visioner som är mycket mer än bara kajakproduktion,säger Pelle Stafshede.
Visioner som bland annat innefattar hållbar turism och platsutveckling. Ett upplevelsecenter med sin transparent factory som bjuder in kunder till att bli en del av produkten, möjlighet till att provpaddla direkt utanför dörren, lokala matupplevelser, övernattning och mycket mer. 
Att Melker of Sweden nu blir Made in Sweden fullt ut är också startskottet för ett nytt kapitel, där bolaget nu öppnar upp för en nyemission om 20 miljoner kronor.
– Vi har många stora planer att sjösatta nu, egen produktion i Sverige, satsningen i Nordamerika och förvärv av en egen lokal. Vi har en solid affär i botten, vår tillväxtkurva går åt rätt håll och vi genererar vinst, så tidpunkten för att ta in nya investerare för att växla upp är helt rätt, säger Pelle Stafshede.
Mediakontakt
Pelle Stafshede, CEO & Creative Director, pelle@melkerofsweden.se, +46 733 16 95 35
Logo, bilder och filmer med hög upplösning
https://www.dropbox.com/sh/ye937m155li9t4w/AAAJXoayHPQND5fqy3VWOQv3a?dl=0
Om Melker of Sweden
Melker of Sweden grundades 2015 på Hammarö i Värmland och är en tillverkare av hållbara och innovativa produkter för vattensport som kajaker, paddelbrädor och tillbehör. Genom att ständigt pressa gränserna för hållbarhet, hantverk, design och innovation har Melker of Sweden blivit det mest erkända företaget inom vattensport i Europa. Företaget har hedrats av den internationella paddlesportsindustrin och branschkollegor, samt har mottagit flera priser, såsom German Design Award och Svensk Form, för sina tidlöst vackra och hållbara produkter för en aktiv och medveten livsstil.