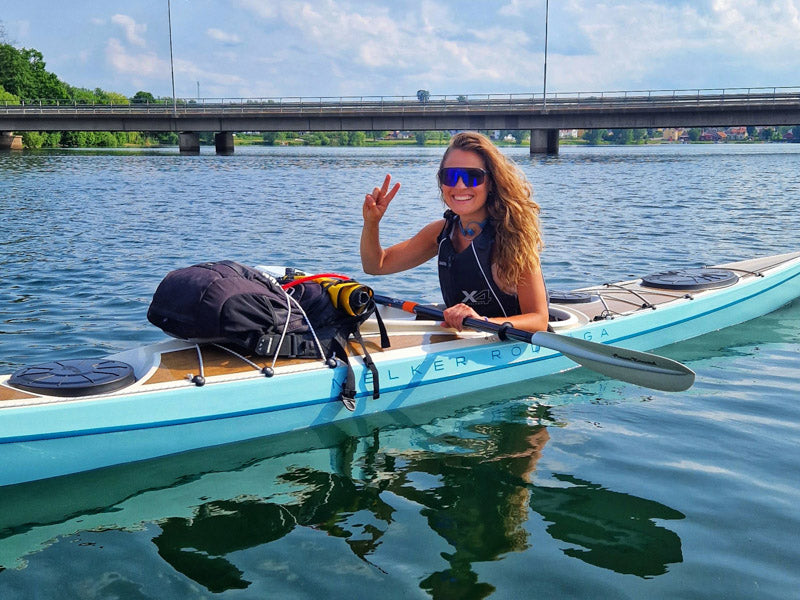 Marija Aurell is based in Motala, the lake city of Östergötland, and works as a Lifestyle Entrepreneur, Photographer, Speaker, Brand Developer, and Fitness Coach. Through her Instagram and Facebook accounts, she daily inspires her followers to follow their own pulse with her hashtag #vågavarapuls, which translates to "dare to follow your own pulse." She achieves this by capturing and sharing her everyday life through photography and videos, showcasing how she uses nature to promote well-being and how she combines her lifestyle with her business.
Marija thrives when she experiences a sense of freedom in her daily life, and for a long time, she has achieved this through solo adventures such as cycling, hiking in the mountains, outdoor camping, hiking, forest excursions, SUP (Stand-Up Paddleboarding) trips, cold-water bathing, and strength yoga. After completing numerous SUP trips combined with outdoor camping, Marija is now ready to explore and enjoy everything that the world of kayaking has to offer.
Marija paddles a Melker Rödlöga LV
Why do you paddle Melker?

As a newcomer to the Melker family (and the world of kayaking), you will soon get to know me better as you join me on my journey of development. I want to share how I embark on my solo adventures and at the same time, demystify any possible beginner situations I may encounter in order to inspire more people to get out and experience our magnificent nature up close. I believe that my Melker Rödlöga LV will be a perfect fit for me!
Let the adventure begin!
five quick questions
…Harge Uddar, located near Askersund in Örebro County.
...My mobile camera is essential for inspiring more people to go out and enjoy Life with a capital L.
… Every time I catch the slightest glimpse of water...
… Olives, nacho chips with chili, sun-dried tomatoes, cherry tomatoes, feta cheese, raspberries.
… I smiled all the time. Constantly!
#MelkerMoments
Some of my best #MelkerMoments